Over the past few months, maybe year or so, I've been getting more and more into board games. I think beginning for me was when a friend of a friend introduced me to Carcassonne a couple of years ago. Building a map on a table was such an exciting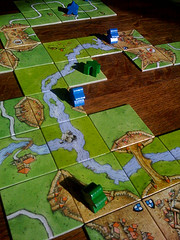 experience for me. I don't know why it hadn't occurred to me before then to seek out such a game. It was one of those moments where, probably even aloud, I said to myself "wow, yeah, of course a map-building land-grab game exists, and of course I would love such a game, why didn't I know about this earlier?"
Carcassonne kept me busy for a long time, though pretty quick I knew I wanted to dive deeper. It was a while before I picked up The Settlers of Catan. Settlers was another eye opener. I enjoyed the player-interactivity that Settlers provided – it was quite different from Carcassonne, despite having a lot of similarities too. The big bummer for me with Settlers though, was the 3 player requirement. Steff's not a big fan of the game, so still don't get to play it too often.
My current board game love is Pandemic. What a fantastic game. It's short (usually around 45 minutes), and I've had a couple of successful rounds playing it solo (as two players). I had no idea a collaborative game could be so engaging and "full" feeling.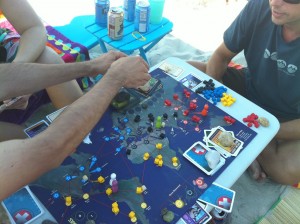 I'm so taken with Pandemic I even brought it to the beach, despite it using multiple decks of cards and a ton of fiddly little blocks of wood. We got through 3 or 4 games that day. Pretty fantastic.
Agricola is the latest game I've gotten into. Only played a couple of games so far, but I can already see why some folks are such fanatics. It's really a simple game at it's core, but there are so many little intricacies in the rules that make it interesting. Also, the sheer amount of options available to each player is pretty remarkable. I understand that all of these characteristics are also the items listed by people who dislike the game. It seems to be a fairly polarizing game that way. Also, unlike Pandemic, it seems that it's not one of those games that just takes a few games for most people to come around to. Which I also find interesting. That's not to say, of course that some folks don't warm up to Agricola, though, if the posts on BGG are to be believed, most folks get it or don't on their first or second play. I have yet to try Puerto Rico, but I hear that's the same way.
I think the next game up will be either Age of Steam or Power Grid, both of which I'm pretty sure I'm going to enjoy quite a bit.

I'm also getting into 'Print and Play' games. I printed, tried and enjoyed Zombie in my Pocket a couple of months ago. Infection Express was the one that really struck me though. It's a nice, light version of Pandemic with quite well done artwork. Here's my final version, complete with polymer clay pieces, painted dice and foamcore-mounted cardstock printouts.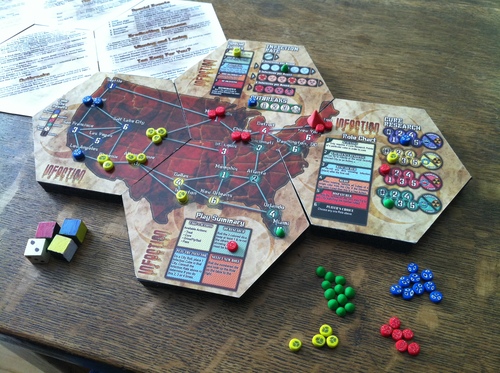 I've started working on my own game now too. I thought I was doing really well with it, too, until the first play-test. I'm completely humbled. Game design is ridiculously difficult. I know what the major flaws are in my game, so I'm going to keep tweaking it and working at it. I thought I was starting out with a pretty simple idea, alas, no – it's still a very fun project though, and I'm having fun brainstorming with Ethan and Steff about it. Hopefully we'll come up with something eventually. I'm trying hard not to stay married to any ideas at the moment. It's just fun thinking about building something for the sole purpose of having fun with it.